Services at Nearing Total Health
Acupuncture
Acupuncture at Nearing Total Health
Acupuncture is the practice of inserting ultra fine needles into specific points on the body. The points lay along 14 meridians or channels that cover the entire body. There are 365 points associated with these meridians as well as many 'extraordinary' points. These points were mapped on the body thousands of years ago through qi gong, trial and error. History shows that manipulation of these points produces predictable results.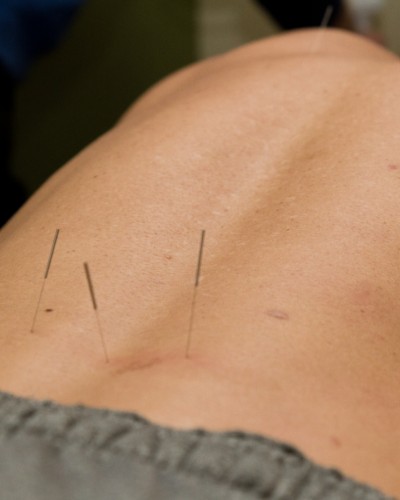 Does Acupunture Hurt?
The needles used in acupuncture are very thin–varying from .20 mm to .30 mm. Sometimes a client will feel the needle enter the skin, like a bee sting or a pinch. Once the needle is in the body, the client generally feels no pain. If the client feels a sharp sensation the needle is either readjusted or removed altogether. We do, however, want to have the client experience some kind of 'qi' sensation. This can be dull and achy, tingling or feeling like electricity, hot or cold sensations, or just 'strange'. Sometimes the area can begin to throb. We want your treatment to be well within your tolerance level. Please let us know if you feel uncomfortable in any way.
Common conditions treated by acupuncture:
low back pain
neck pain
sciatica
tennis elbow
knee pain
periarthritis of the shoulder
sprains
facial pain (including craniomandibular disorders)
headache
dental pain
tempromandibular (TMJ) dysfunction
rheumatoid arthritis
induction of labor
correction of malposition of fetus (breech presentation)
morning sickness
nausea and vomiting
postoperative pain
stroke
essential hypertension
primary hypotension
renal colic
leucopenia
adverse reactions to radiation or chemotherapy
allergic rhinitis, including hay fever
biliary colic
depression (including depressive neurosis and depression following stroke)
acute bacillary dysentery
primary dysmenorrhea
acute epigastralgia
peptic ulcer
acute and chronic gastropod